Welcome Hanoi Cooking Class Tours
At Hanoi Cooking Class Tours , we care about all things culinary and Visiting local wet market . Hanoi Cooking Class Tours not only offers hands-on cooking classes, street food tours and café, but also organize visiting local wet market.
Develop a deep appreciation of the flavours, history and culture of Hanoian & Vietnamese cuisine by taking one of our 4 set departure group cooking classes to learn how to buy the foods at wet market and learn how to cook awesome street foods. You could pick up the dishes wanted to learn by booking our private cooking class tours.
In our classes you will prepare dishes under the guidance of experienced chefs at your own work station and each workshop will conclude with enjoying the food you have prepared.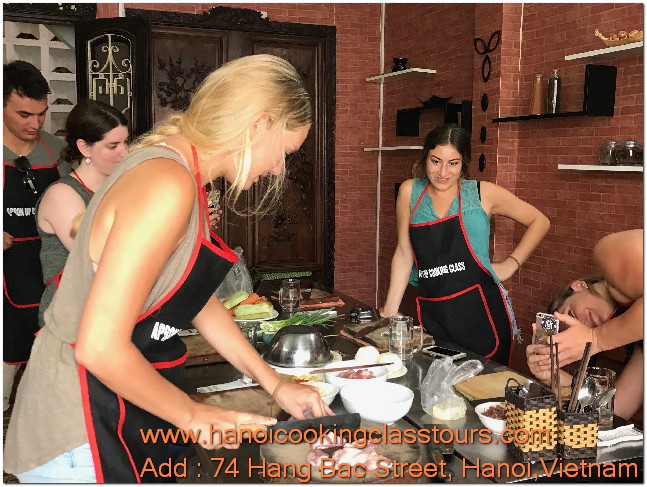 See, taste and discover the local food scene by experiencing some of Hanoi's quintessential street food. Experience a local market where your chef will demystify the local produce and encourage you to taste along the way. Do you like to have an informative Cooking Class? Hanoi Cooking Class Tours offers you the most amazing way of cooking the delicious food available in various parts of the country. Hanoi Cooking Class Tours are expert in offering the hands-on cooking classes, café, street food tours and much more in the enticing way. The Hanoi Cooking Class Tours helps you to prepare the dishes with the appropriate guidance by the experienced chefs at their own station. Of course, it is convenient to enjoy the food prepared by the top chefs. Taste and discover astounding local food by experiencing the Hanoi's quintessential street food and you would have a great time. Learn more information about the unique dishes so that it would be suitable for having the complete information in the enticing way. Professional and experienced guide will pick up from your hotel and also you can meet more number of chefs around the area. Know the complete details about the Hanoi Cooking Class Tours here www.hanoicookingclasstours.com.
Do you like to know about the history, culture and flavours of the Hanoian & Vietnamese cuisine? Take 4 sets of departure group cooking classes for learning the methods of using the ingredient to cook efficiently. Buy the foods at the wet market as well as learn how to cook the most awesome street foods within short time. Of course, it is convenient to pick up dishes wanted for learning and book the private cooking class tours in the amazing way. Guide would bring you to the market and shows the overview about Vietnamese herbs as well as spices.
We are offerring 15 % discounted for booking our Hanoi Daily Cooking Class now Daily Group Cooking Class Tours -
Booking now
Duration : 3 hours - Departure time at : 9h00 to 12h00 - 11h30 to 14h30 - 16h00 to 19h00 & 18h30 to 21h30 Price : 35USD/0 1person Included : Visting wet market, English chef, food, egg coffee
You are amazed by the mesmerising authentic Vietnamese food which is not the same in your home country? Take a cooking class to learn the secrets and dazzle in delight your family and friends when you come back home!Viet cusine is simple like the people and the nature here. You don't need to be a chef to make successful Viet dishes, but you do need the tips to make flavourful and proper ones.|
Apron Up Cooking Class is the place for you. Here you will get the family handed- down recipes and tips which cannot be found in books or else where. More over, you will be inspired to cooking by the enthusiastic and energetic people here.
We have classes covering the most popular and favoured Vietnamese dishes and alternatives that will adjust to all your desires.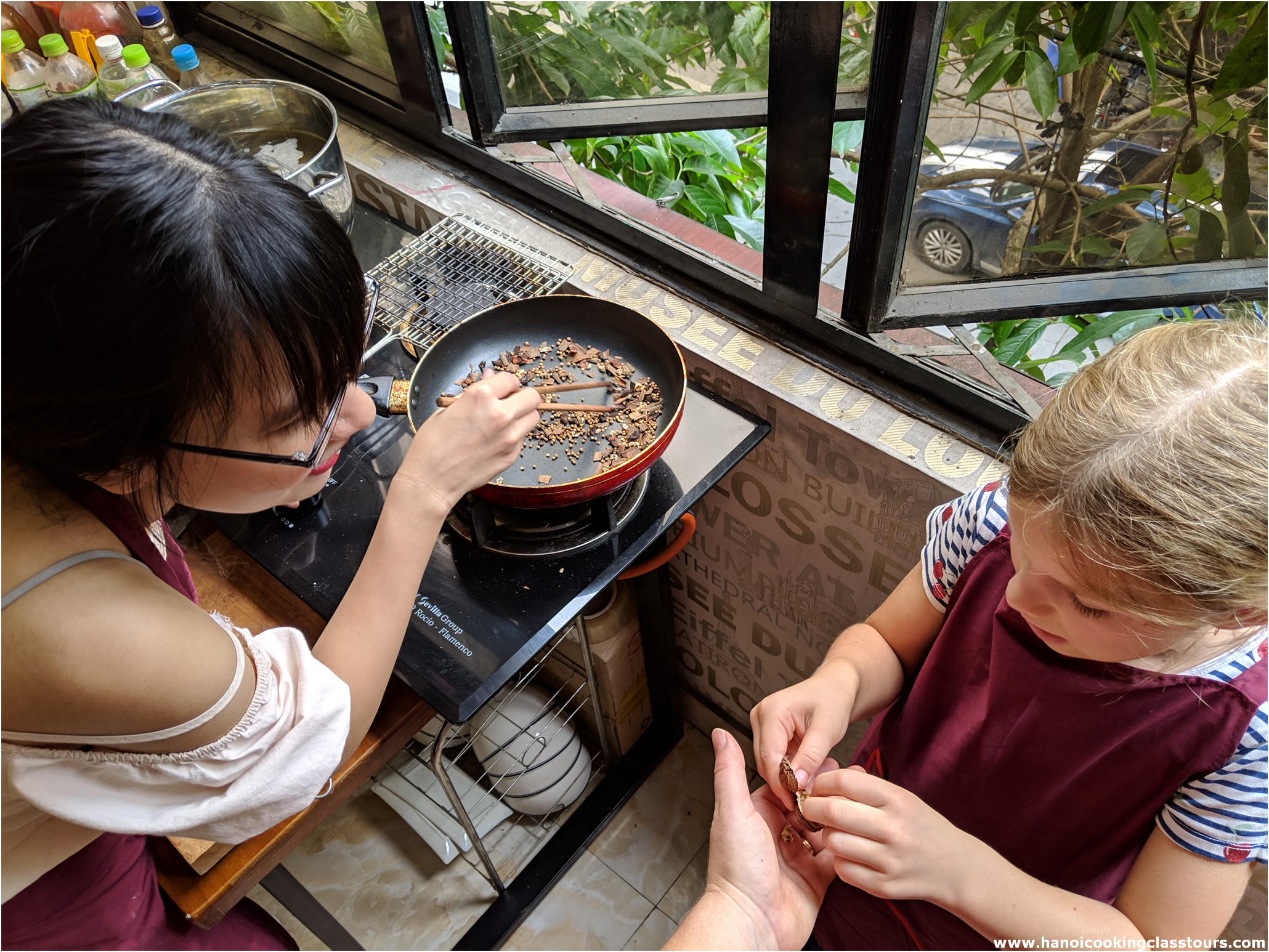 Itinerary
Our guide will pick you up in your hotel or meet up in some agreed middle point. The class lasts 3 hours, starting with the market trip. The guide will bring you to a traditional market and tell you about the main ingredients in Vietnamese cuisine, so you can have a clearer overview about Vietnamese food and an insight into Vietnamese herbs and spices ( herbs and spices are important in Asian dishes). You will get to know some key useful Vietnamese words to buy and bargain the necessary ingredients yourself , which is very useful for you to bargain anything you want to buy afterward in your Vietnam trip.
After buying the necessary ingredients for the class you choose, you will come back to our class kitchen and listen to the dishes' principles and general methods, then watch how the guide prepare the foods. After that you can cook yourself and enjoy your Masterpiece!!! With Apron Up Cooking Class, you can really get your hands on the cooking. You will buy & bargain your own ingredients and make everything from the scratch. Enroll in this class, you are guaranteed to have unforgetable experience while in Vietnam, and confidient to treat your beloved family and friends with the mesmerising Viet dishes when you come back.
Inclusion: English speaking guide Ingredients Vietnamese red wine or lemon juice
Cooking Option Included:
1) Phở ( beef noodle )
2) Nem ( Spring roll)
3) Bun Cha ( Vietnamese dish of grilled pork and noodle )
4) Nộm đu đủ ( papaya salad )
5) Cà phê trứng (egg coffee)
Price : 35 USD/Person /Group Tour ( You are a member of group 6 to 10 People )- Booking now Inclusions: visit local market, English chef, food, egg coffee
Private Cooking Class Tours Duration : 3 to 4 hours - Free to choose any time between 7h00 AM to 19h00 on Everyday Price : Contact us : hanoicookingclasstours@gmail.com to get detail information
Option 1
Bún Chả (barbecued pork noodle)
Nem ( spring roll)
Gỏi bưởi tôm ( shrimp pomelo salad)
Cà phê trứng (egg coffee)
Sữa chua nếp cẩm (black sticky rice yogurt)
Option 2
Bún bò Nam Bộ ( special beef noodle salad)
Gỏi cuốn ( summer roll)
Gà kho gừng ( ginger chicken)
Nộm rau muống ( morning glory salad)
Chè hạt sen long nhãn ( lotus longan dessert)
Option 3
Phở ( beef noodle)
Mực nhồi thịt ( stuffed squid)
Gà xào sả ớt ( lemongrass and chilli chicken)
Nộm hoa chuối ( Banana blossom salad)
Sinh tố hoa quả ( fruit smoothies)
Option 4
Bún sườn chua ( summer style pork rib noodle)
Thịt kho tàu ( caramel pork with quail egg)
Nem tôm xoài ( fried mango shrimp spring roll)
Nộm Dưa chuột ( cucumber salad)
Sữa chua cà phê ( yogurt coffee)
Option 5
Cơm trộn cung đình (Vietnamese royal rice
Sườn xào chua ngọt ( pork rib in tomato sauce)
Tôm thịt cuộn mía ( pork & shrimp sugarcane wrap)
Nộm xoài ( Mango salad)
Sữa chua hoa quả ( fruit yogurt)
Option 6
Bánh mì sốt vang ( beef au vin bagguete)
Súp gà ngô non ( chicken corn soup)
Bánh xèo ( sizzling pancake with beef & shrimp)
Rau muống xào tỏi ( stir-fried morning glory w.garlic)
Kem chuối ( Banana dessert)
Option 7 ( seafood option)
Bánh đa cá trộn ( fish noodle)
Chả cá ( Fish cake)
Bánh tôm ( Shrimp pancake)
Nộm đu đủ ( Papaya salad)
Cà phê sữa đá ( ice condensed milk coffee)
Option 8 ( Vegetarian/ Vegan option)
Cơm rang rau củ ( vege/vegan fried rice)
Nem chay ( veg. fried spring roll)
Bánh chuối ( Banana pancake)
Đậu sốt cà chua ( tofu in tomato sauce)
Bí ngô xào tỏi ( stir-fried pumpkin & garlic)
Contact us