DE SYLOIA

17a Tran Hung Dao, Hoan Kiem District, Hanoi(00 84 4 824 5346)

A stylish international hotel with a mock-colonial façade and eight floors of impeccably furnished rooms, some a touch on the small side. It also boasts a slick restaurant and a health club.

HILTON HANOI OPERA

1 Le Thanh Tong, Hoan Kiem District, Hanoi(00 84 4 933 0530)

This luxurious property adjacent to the Opera House is a good-value option for those seeking five-star accommodation. Features 269 rooms with high-speed internet access, and satellite TV, while in-house services include a business centre, two executive floors, fitness centre and outdoor swimming pool. The Lobby Lounge bar has become a popular nightspot for delicious cocktails and visiting flamenco bands.

INTERCONTINENTAL HANOI WESTLAKE

1a Nghi Tam, Tay Ho, Hanoi(00 84 4 270 8888)

A very stylish hotel overlooking the 800-year-old Golden Lotus Pagoda in Hanoi's largest lake, the InterContinental Hanoi Westlake has 359 good-sized and beautifully decorated rooms with LCD TVs and deep baths. The Milan restaurant serves Italian food, while Saigon specialises in the Vietnamese and Chinese cuisines, and Café du Lac is an excellent French brasserie.

MELIA HANOI

44B Ly Thuong Kiet Street, Hoan Kiem District, Hanoi(0800 032 4254)

Melia Hanoi is a member of the Great Hotels of the World and occupies a central location right in the heart of Hanoi's business, government and diplomatic district. Heads of states such as Spain's Queen Sofia, HR Princess Anne of the UK and members of the Brunei Royal family have stayed here. The hotel has a heliport on its roof, so guests can arrive in style. All rooms have luxurious bathrooms, minibar and satellite TV. The hotel also has the largest ballroom in Vietnam, with an impressive capacity for up to 1,200 guests. There are two restaurants including El Patio that serves international cuisine during the day and the Asian-inspired El Oriental restaurant. The hotel is within walking distance of Hanoi landmarks such as the Grand Cathedral, the Grand Opera House, Hoan Kiem Lake and the Temple of Literature.

NIKKO HANOI

84 Tran Tong, Hanoi(00 84 4 822 3535)

A luxurious hotel with well-appointed rooms with standard five-star facilities, the Nikko Hanoi is Japanese-owned and retains a distinctly Japanese - rather minimalist - feel. The sushi bar Benkay is excellent. Other facilities include a business centre, health club and outdoor swimming pool.

SOFITEL METROPOLE

15 Ngo Quyen, Hanoi(00 84 4 826 6919)

Despite fierce competition from new luxury rivals, the Metropole remains the most prestigious address in Hanoi. Opened in 1901, past guests include Charlie Chaplin, Jane Fonda and Jacques Chirac. Though rooms in the new award-winning Opera Wing exude international-class luxury, they lack the old-world charm of the original building, with its wooden floorboards, period furniture and bamboo wall coverings. There are 363 rooms and suites, and in-house facilities include a business centre, hair salon, small outdoor swimming pool, and a fitness centre. A spa will open soon. Spices Garden serves upmarket Vietnamese fare, while Le Beaulieu is one of the finest French brasseries in town. The hotel is a seriously luxurious experience.

ZEPHYR HOTEL

4 Ba Trieu, Hanoi(00 84 4 934 1256)

A very smart hotel - formerly known as Thuy Nga - with 40 elegantly decorated rooms and a great location near to Hoan Kiem Lake. All mod cons and reasonable prices make this a good budget option.

ESSENCE HANOI

22 Tạ Hiện, Hàng Buồm(00 84 4 3935 2485)

In the heart of the Old Quarter, a few steps from Dong Xuan market and some of the city's best street life and shopping (silks, crafts, food - including excellent dried fruits), is the latest addition to a chain that has flourished by providing well-designed, well-run, mid-range hotels. Essence Hanoi's public and private spaces all follow the same theme: white walls, muted fabrics and dark wood, and all 30 rooms have complimentary-use laptops and free Wi-Fi. The upper floors are brightest and quietest for those seeking respite from the lively and at times chaotic Old Quarter location. The hotel's Essence Café serves an excellent pho (noodle soup).

HOTEL DE L'OPERA

29 Trang Tien Street, Hoan Kiem District(00 84 4 6282 5555)

Part of Accor's M Gallery, a collection of hotels with personality, this one is modern and bold, especially in its high ceilings, picture windows and splashes of bright colour. The ground-floor Bentley boutique announces that this is the heart of uptown, on what is the Fifth Avenue of Hanoi - but it's also a short walk from the central lake and the Old Quarter. The 107 rooms have lots of colour and texture - mosaic tiles in bathrooms, red-velvet headboards, purple throws on the fabulously big beds - and attract businessmen and younger creatives alike.
Daily Group Cooking Class Tours
Duration : 3 hours - Departure time at : 9h00 to 12h00 - 11h30 to 14h30 - 16h00 to 19h00 & 18h30 to 21h30
Price : 35 USD/0 1person Included : Visting wet market, English chef, food, egg coffee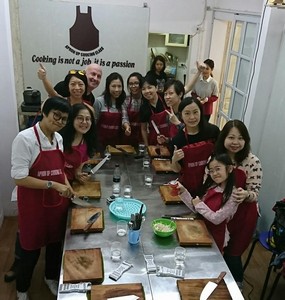 You are amazed by the mesmerising authentic Vietnamese food which is not the same in your home country? Take a cooking class to learn the secrets and dazzle in delight your family and friends when you come back home!Viet cusine is simple like the people and the nature here. You don't need to be a chef to make successful Viet dishes, but you do need the tips to make flavourful and proper ones.|
Apron Up Cooking Class is the place for you. Here you will get the family handed- down recipes and tips which cannot be found in books or else where. More over, you will be inspired to cooking by the enthusiastic and energetic people here.
We have classes covering the most popular and favoured Vietnamese dishes and alternatives that will adjust to all your desires.
Itinerary
Our guide will pick you up in your hotel or meet up in some agreed middle point. The class lasts 3 hours, starting with the market trip. The guide will bring you to a traditional market and tell you about the main ingredients in Vietnamese cuisine, so you can have a clearer overview about Vietnamese food and an insight into Vietnamese herbs and spices ( herbs and spices are important in Asian dishes). You will get to know some key useful Vietnamese words to buy and bargain the necessary ingredients yourself , which is very useful for you to bargain anything you want to buy afterward in your Vietnam trip.
After buying the necessary ingredients for the class you choose, you will come back to our class kitchen and listen to the dishes' principles and general methods, then watch how the guide prepare the foods. After that you can cook yourself and enjoy your Masterpiece!!!
With Apron Up Cooking Class, you can really get your hands on the cooking. You will buy & bargain your own ingredients and make everything from the scratch. Enroll in this class, you are guaranteed to have unforgetable experience while in Vietnam, and confidient to treat your beloved family and friends with the mesmerising Viet dishes when you come back.
Inclusion:
English speaking guide
Ingredients
Vietnamese red wine or lemon juice
Cooking Option Included:
1) Phở ( beef noodle )
2) Nem ( Spring roll)
3) Nộm đu đủ ( papaya salad )
4) Cà phê trứng (
egg coffee
)
Price : 35 USD/Person /Group Tour ( You are a member of group 6 to 10 People )
Inclusions: visit local market, English chef, food, egg coffee
2 )
Private class :
Private class: Private classes open every day at recommended time or your required time. Private classes last for 4 hours. You will get to pick one of the options or mix the dishes up to your preference